Our town hosts the First Eggs and Potatoes Day at the Bendita Katalina restaurant
The gastronomic space of Añoreta Resort & Golf resumes its cycle of gastronomic days from 25th September to 1st October.
The long-awaited return of Bendita Katalina's new gastronomic days is here. After the summer it comes loaded with flavour, gastronomic tradition and unique evenings. This charming space, located in the heart of the Añoreta Resort Club House, enthusiastically announces the start of its famous gastronomic days, in this case dedicated to Eggs and Potatoes, an event that is sure to conquer the most demanding palates.
The town of R. De la Victoria will witness from 25th September to 1st October these days that will remain engraved for all those lovers of good food, having here an unavoidable appointment.
After the summer period, Bendita Katalina is back in full swing to welcome the autumn season with a focus on local, high-quality produce. This time, the restaurant is filled with authentic aromas and flavours with its focus on two essential ingredients of the cuisine: eggs and potatoes. The choice of these basic ingredients promises to take us on a culinary journey that will awaken our memories and the gastronomic values of our locality.
In these Egg and Potato Days, the Bendita Katalina restaurant has carefully selected eggs from free-range hens and other birds, such as quail or goose, to be the stars of its dishes. In the hands of the talented chef Diego Narbona and his team, these ingredients are transformed into gastronomic creations that will delight all diners.
In addition to the exquisite food, Bendita Katalina offers a unique experience thanks to its charming outdoor terrace, overlooking the golf course of Añoreta Resort & Golf.
To secure your place at this unique gastronomic experience, we recommend that you make your reservation in advance. You can do it quickly and easily through this link:
[Book Now]
http://bit.ly/reservaskatalina
.
Information and reservations:
Av. del Golf S/N. 29730. Rincón de la Victoria (Málaga)
www.benditakatalina.com
/ (+34) 951 57 58 93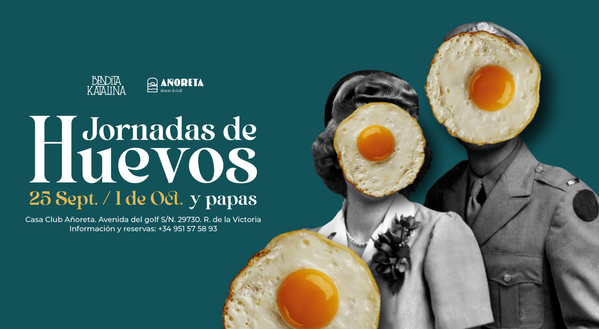 Read more